Skip to Content
Outstanding Lawn & Landscaping Services in Central Ohio
At Cornwell Lawn and Landscaping, our dedicated professionals provide top-notch landscaping services to the communities of Central Ohio. We understand the importance of putting your preferences and opinions first. Let our knowledgeable and experienced team help you turn your vision into a reality. We offer various build and maintenance services, including hardscapes, landscape design, lighting, and more. Our superior services focus on creativity and long-lasting, sustainable results for a yard you can be proud of for years.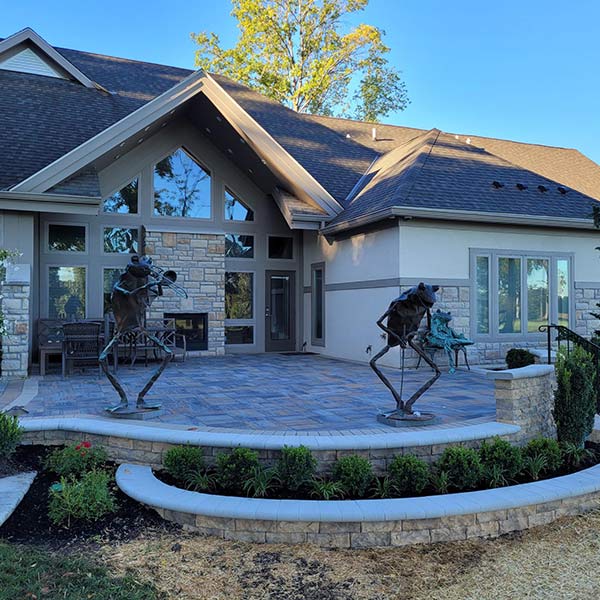 Why Professional Landscaping Is Right for You
Unkept and unsightly plants can detract from the appearance of your yard. Our functional and beautiful landscaping design makes it easy to increase your curb appeal and property value. We believe that proper lawn and landscape care takes time, persistence, and refinement rather than a one-and-done event. Our team can handle any space, from large acreage properties to small, intimate settings. We will choose the right foliage, soil, and services for your yard and work with you to achieve your desired outcome.
We Provide a Wide Range of Services to You
Our skilled and experienced team can design and make your dream yard a reality. We specialize in custom landscaping and lawn care. We can plant, construct, rearrange, and maintain your outdoor space on a routine schedule at your convenience. Our company has the tools and resources to handle any project. We offer a variety of quality landscaping services at an affordable price.
Mowing Services
Our quality mowing service is essential to the overall health of your turf. We use small and large mowers to transform faded grass into a beautiful lawn. We also include line trimming and cleanup for a sharp look.
Weed Control Services
Our team will eliminate weeds from your lawn and planting beds. Let us free your space so your bed can grow tulips, daisies, and gorgeous orchids.
Power Edging Services
Power edging trims where mowers can't reach and gets rid of overgrowth on paved surfaces for a clean and finished appearance.
Turf Healthcare Services
We will get your lawn to a healthier state and help ensure that it looks its best all season long. Our turf healthcare services include overseeding, fertilizer, insect control, and lawn aeration.
Spring Services
Our team promotes the health of your plants by cleaning all unwanted debris, treating your beds with pre-emergent weed control, applying triple-processed organic mulch, and giving your beds a crisp, professional edge.
Seasonal Pruning
Our seasonal pruning services will keep your landscape looking its best by trimming at seasonal intervals. Our lawn experts will evaluate your entire landscape for deadwood, cankers, diseased branches, and more.
Fall Services
We will ensure your landscape gets a fresh start by removing dead leaves from your yard, beds, and tree rings. Our team will cut back perennials and free your planting beds of debris, sticks, and dead plants.
Design & Build
Using cutting-edge software and industry-leading best practices, we design and build your ideal landscape. We do lighting, retaining walls, stonework, pavers, decks, patios, flower gardens, plant beds, trees, ponds, and fountains.
Seasonal Color
Our seasonal color services give you eye-popping displays that last 365 days a year, be it a splash here and there or a large, head-turning display.
Low Voltage Landscape Lighting
Put an authentic shine on your property with the best low-voltage functional and ambient lighting displays. Our services are low-maintenance and eco-friendly.
Irrigation Services
Water is essential to plant and turf health. Our team uses top-quality equipment, high-tech electronics, and the best industry standards to maintain your lawn at its absolute best.
Snow Removal Services
Our experienced snow warriors use the best equipment to remove your snow safely and efficiently. Our fleet is ready for the job with plows, sidewalk plows, and oversized snow pushers.
Creating Landscapes With Care
Let us transform your outdoor space. Our company adds beauty and value to your property while providing you with the quality services you require. We handle anything from small romantic patios for watching the sunset to outdoor entertainment areas full of amenities for hosting your guests. Our experienced team will give your lawn the care and attention to detail it needs to become green and lush. With over a century of industry experience, our professional designers can make your landscaping dreams a reality.
Enhancing Landscapes One Bed at a Time